België_

GHENT Meets KANAZAWA
event
The year 2016 is the 150th anniversary of friendship between Japan and Belgium. In addition, it is also the 45th anniversary of twinning between sister cities Kanazawa and Ghent. In this special year for both Japan and Belgium, we would like to bring a cultural event to Ghent and introduce Kanazawa culture, so to strengthen the link between Kanazawa and Ghent.
You can enjoy some Japanese cultural experiences, delicious food/drinks, and beautiful exhibits in this event.
Please come and enjoy Japanese culture!
2016年は、日本とベルギーの友好150周年、そして
金沢市とゲント市の姉妹都市提携45周年である特別な年
。
長い交流の歴史を持つ金沢とゲントの交流をこれからより
盛んにしていくための一歩として
当日は美術展、文化体験、食
のブースを用意してお待ちしております。
主催者:
高田 萌
calligraphy booth - exhibition :

video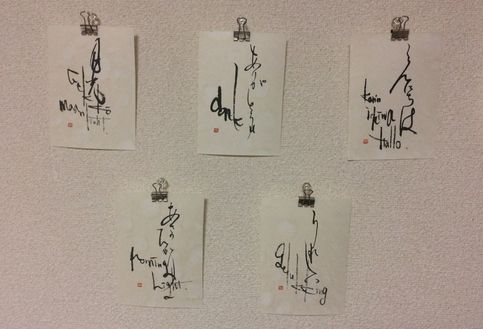 exhibition
-titel-
maanlicht - 月光
dank u - ありがとう
hallo - こんにちは
Morning light - あさのひかり
gelukkig - うれしい
-papier-
HosokawaJapanesePapier・・・Immaterieel cultureel erfgoed
video
the video will was screening in event.